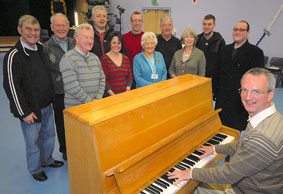 Inverness Opera Company rehearse with
new musical director Steve Jones for their
new show Titanic the Musical. Iona Spence
---
AS musical director of Inverness Opera Company's 2010 show "Titantic - The Musical", Steve Jones is sailing into uncharted waters of his own.


The nearest he has come to directing a musical has been working on local pantomimes, though he describes himself as very much a fan of musical theatre.

Jones' musical career has been more classically based in the past, mainly revolving around his work as a choirmaster and organist in London and Cambridge.

However, marshalling a stage musical with its separate musical, vocal and dramatic elements, including such technical challenges as scene changes and an ever-changing number of people on stage is something a bit different.




"It is a bit more challenging than conducting a choral concert but it has the same basic elements," Jones says.
"I'm the musical director for this next show only but I feel very privileged to be asked to do it."
The Opera Company's 2010 show will be very different from 2009's "Anything Goes", despite sharing a shipboard setting - and also quite different from the blockbuster 1997 James Cameron film (so no danger of that Celene Dion song).
"The Broadway musical came out the year before the film," Jones pointed out.
"It had a run of 1000 performances on Broadway but it was never performed in the West End. There have been a few performances here in the UK but not many."
"Titanic - The Musical", with songs by Maury Yeston and a story by Oscar-winning writer Peter Stone, won five Tony Awards on its Broadway run, including one for Best Musical.
"It's much more related to the actual experience of people on the Titanic rather than a love story like the film," Jones added.
"The music is extremely good and there is a lot of it throughout the show, not just the songs.
"There is a lot of music underneath the dialogue which underscores the emotions - the excitement of a new ship and getting to America in the fastest way possible; then hitting the iceberg and first thinking they are all right; then the sinking and all the trauma that goes with that."

Despite the subject matter, Jones adds it is not a depressing show. "It ends on a hopeful note and even though it tells the story of the Titanic there's a great deal of humour," he says.

In keeping with a show inspired by the largest passenger ship of its time, "Titanic" has a suitably epic scale with 45 named roles, including passengers and crew and most based on real people.

In all some 75 people are involved in the show itself, including a large chorus - on top of which there will be accompaniment from a 20 strong band.

"We have a very strong cast for the show and it will be a great occasion - it's a must see, of course," Jones said.

"It's great fun to be with the people doing the show. The Opera Company members are a very talented bunch and very extrovert. They are a tremendously committed bunch of people."

© Calum Macleod
(Inverness Courier - Arts and Entertainment)